Our services
Our services are open to all students who are enrolled in one of our study programmes and those completing an exchange programme at our department:
Business Administration/Industrial Engineering – all technical subject areas
Business Information Systems
Entrepreneurship and Innovation Management
Logistics and Supply Chain Management
Overview of our services:
Advice on all issues concerning the organisation of your studies (NOT general course guidance)
Advice and support regarding TUCaN
Issue of performance charts and transcripts of records
Issue of certificates (part grade certificate etc.)
Registration: special exams, Bachelor's and Master's theses, etc.
Issue of degree certificates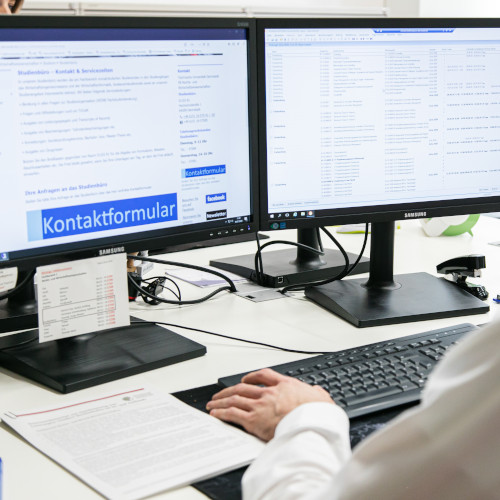 Picture: Christian Stumpf
Contact Form
Please send your requests to the Office for Student Affairs via our contact form.
Submission of documents
For the submission of forms, doctors' certificates, theses etc. please use the drop-off possibilities in the building "Altes Hauptgebäude", building no. S1|03, address: Hochschulstraße 1 (reception or mailbox opposite of room 81). The deadline will be met if you hand in or drop off your documents on the day the deadline expires.
Services of the Office for Student Affairs
Please use our contact form preferably for your requests, since most issues require back-office processing and documentation.
Office hours should be used for quick visits under compliance with our corona-rules to pick up and hand in documents.
In Addition to our office hours we still offer telephone consultations, which were very helpful during corona-times and thus should be continued.

Opening Hours

Telephone Service Hours
Thursday, 1 – 3 p.m.
Phone number: +49 6151-16 57591